Audio companies often point the round date of own history issuance of special product. So come the famous German company ELAC: at his 80th - anniversary: appears the stand loudspeaker BS 203 Anniversary.
► Merits: excellent author's sound in general and in detail, attractive price
► Deficiencies: it is desirable to use proprietary desks LS 70, lacquering requires careful treatment and care
Acoustics, published in summer 2006, is a special version of the basic model BS 203.2. For the pair having root (perhaps with light hands of the company) the name Black Beauty; slogan willingly tirazhiruetsya as acoustic system in black and polished with impeccable really looks very elegant. ELAC inform differences anniversary edition of the acoustic-model prototype. The company reworked crossover, to best adapt BS 203 Anniversary for posting on the foot. A little changed frequency section - 2600 Hz to 2400 Hz. The model, like the overwhelming majority of AU ELAC, produced in Germany (on the rear of the column is appropriate inscription). The company itself manufactures dynamics and even magnets for them.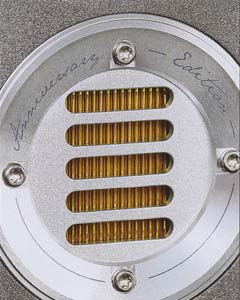 The bookshelf loudspeaker is equipped with two drivers. The JET III tweeter - a Heil radiator. It is based on the design developed by Dr. Oskar Heil in 1970 - ies. converter Air Motion Transformer. Finest (0.84 mm) garmoshkoy folded aluminum foil - a kind of sound coil (by analogy with the speaker). The major on the membrane of the musical signal magnetic field interacts with rods, why "furs" garmoshki compressed and razzhimayutsya, vytalkivaya from its folds the air. In tweeter JET III compared with HF emitters previous generation increased diaphragm area, applied others - neodymium - magnets and, consequently, increased power and sensitivity. It is very important that for the radiator there is little or no problem rolling mass of the system. The unusually wide frequency band JET III: it exceeds four octaves and reaches (on passport) 50 kHz. This means that the system is loyal to the ultrasonic components records formats SACD and DVD-A. 150-mm NCH / SCH-speaker is excellent in the past has proven itself technology company Aluminium Sandwich: "sandwich" is produced connection with glue aluminum "dish" total thickness of 0.2 mm with the same paper-based forms of extraction. Curious DAS (Double Asymmetrical Surround) suspension midbasovogo driver sets the long course of the diaphragm, which allows coupled with other measures to deepen bass without resorting to an increase in the size of the diffuser. The drivers are produced with the assistance of automation, and manual labour (for example, only be formed by hand and mounted tweeter membranes JET III). The company provided the magnetic shielding. The compact design consolidated rasporkami inside. Soosnaya-HF-head pipe fazoinvertora is expanding from both ends - is designed designers should weaken air JET noise. The product is completed foam plugs for partial or complete blocking FI. When a wall is recommended to close the port completely. If you tune parameters lower band depending on the conditions of installation, you can choose a combination of "Gag" (AS we listen without them). The columns are equipped with qualitative input terminals (seemingly production WBT). Nickel-plated brass shtyrechki protective nets are tightly related rubber bushing loudspeaker: a reliable solution. For the manipulation of the acoustics firm provided materchatye gloves.
Sound anniversary couples caught unawares, so it liked. Just excellent sound! I think it will satisfy even the most demanding ear. Musical capacity of the system could be described as extremely high, if not natural for a mini-monitor restrictions in lower case. A pair of BS 203 has a lot in common with the aide excellent model ELAC FS-609 X-PI, which the magazine wrote earlier in heading High End. Extremely high contribution tweeter JET III. It is this emitters created charming musical effects guy image, a kind audiolevitatsii. The prospect of sound stage clear until the horizon. Sound transparent, almost sterile clean, especially in middle and high registers. Very harmonious manner. In transmission lines, spots, contours, colors, strokes, etc. Initiation and no grain. Column has elastic, quick, surprisingly mature bass. The high tone resolution and tonal evenness can be judged by the transfer system good records piano: Schumann Etyudov taped Pletnev (Deutsche Grammophon) and Schnittke compositions (Caro Mitis). In a number of special mention slightly cool colors sound, the undesirability of listening to a very high volume.
BS 203 Anniversary should be placed in small and medium-square rooms. It is important to take care of amplifier and source appropriate level. Purpose AS primarily musical. Installation on a pair of brand stands LS 70 will give advantages in the visual and (possibly) sound sense. With pleasure we recommend our readers this excellent product for the tempting price.

Prepared according to the journal "Stereo & Video".