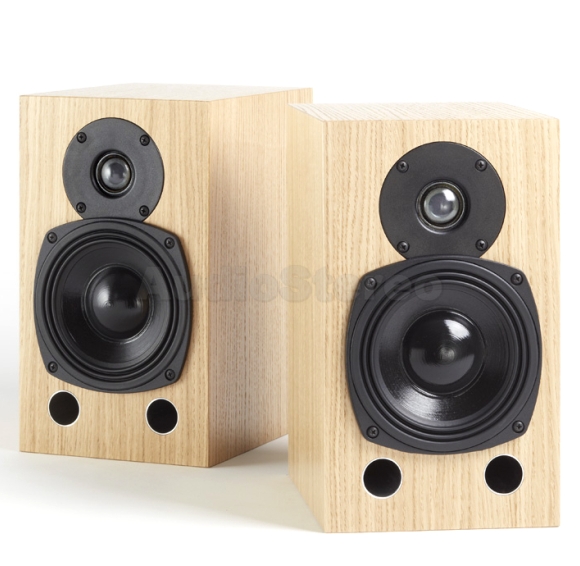 €440
XAVIAN Bonbonus

This reproducers obviously put a spectacular free placement down with excellent focusing. The detailing is excellent and the frequency is very linear.
Major achievements are in the middle area and the phenomenal authentic way sounds are displayed. It's hard to believe, but the layer can be powerful and convincing presence.
The Xavian Bonbonus excels in communication of sound, has an impressive beautiful midrange, is dynamic, sounds very linear and especially extremely communicative and involved.

XAVIAN Bonbonus

So fun, yet mature sound we have not heard of any similar - tools is full of colors, music flowing around you with immersive, velvety smoothness and rhythm, everything is laid on an energetic, hard bass foundation and the cultured centers and heights.
Typically great "Xavian-grade" performance
Wide range of color "optimistic" design
Pleasantly relaxed, fun and "action" sound
Excellent "fit" as well as very inexpensive amplifiers
Excellent price

XAVIAN Bonbonus



XAVIAN Bonbonus



XAVIAN Bonbonus



XAVIAN Bonbonus

From the first notes it was evident that the reproduction defies everything I've so far in this price range considered standard. Bonbonus provides highly pure, surprisingly dense while the frequency-balanced sound with great space, so a well namixovaných recordings once the system seems to "disappear" and you perceive only the music coming from the front with the exact localizes tools.
Excellent reproduction primarily acoustic instruments outstanding spatiality, surprisingly powerful while a solid bass reproduction, exceedingly careful design.

XAVIAN Bonbonus



Tweeter

: 26 mm impregnated fabric soft dome, working chamber under the membrane, magnetic structure with high power handling, made in Italy

Midbass

: 132 mm impregnated paper membrane, 40 mm aluminium voice coil, kapton former, non resonant twin-wave rubber surround, die-cast basket, made in Italy

Cabinet

: 16 mm MDF, handcrafted, real wood veneers, front firing aluminium bass-reflex ports, magnetically suspended front grills

Terminals

: gold plated binding posts
Bonbonus: A small miracle, made in Xavian

Bonbonus is simply an incredible mini-monitor: music lovers will be astonished at once by the really popular price.
Bonbonus plays music in an alternative way compared to the mainstream product of this price range: you will not be impressed at glance by unnatural high tones or exagerated bass. Bonbonus plays what we call the "mini High-End" approach: maximum care for phase response, rhythm and colours of instruments and voices.
Extraordinary power handling let you integrate them also in large spaces.
Thanks to compact size and front bass-reflex ports the installation is particularly simple.
The removable front grills are magnetically suspended for clean design.

Bonbonus is available in 3 different real wood hand-made veneers and 9 different pastel colours, painted on real wood veneer.
The whole production is made in our factory near Prague.
Specifications

Mid-bass frequency unit

132 mm exclusive custom made Xavian, impregnated paper membrane, 40 mm aluminium voice coil on kapton former, non resonant twin-wave rubber surround, die-cast basket

High frequency unit

26 mm exclusive custom made Xavian, impregnated fabric soft dome, working chamber under the membrane, magnetic structure with high power handling

System type

2-ways damped bass-reflex, front aluminium bass-reflex ports

Cabinet

hand-made, panels of 16 mm thickness, magnetically suspended front grills, real wood veneers

Frequency response

(-3 dB on reference axis): 59 - 20000 Hz

Connection

1 pair of gold plated binding posts

Nominal impedance

8 ohms

Crossover frequency

3000 Hz

Sensitivity (2,83V/1m)

87 dB

Recommended power amplification

30 - 120 W

Dimensions (HxWxD)

273 x 160 x 200 mm

Net weight (1 unit)

4,7 kg
Finishes

| | |
| --- | --- |
| oak, beech, wenge real wood veneers and 9 pastel colours, painted on real wood veneer | |

- 26 mm exclusive custom made in Italy
- Impregnated fabric soft dome
- Working chamber under the membrane
- Magnetic structure with high power handling

- 132 mm exclusive custom made in Italy
- Impregnated paper membrane
- Non resonant twin-wave rubber surround
- Aluminium voice coil on kapton former
- Die-cast Alu chassis, vented below spider

- Audio Grade high quality components
- Air wounded Inductor on tweeter section
- Film Capacitors on all sections
- 250V Polypropylene Film Capacitors in key points, stable capacity, low loss. low tolerance

Cabinet technology