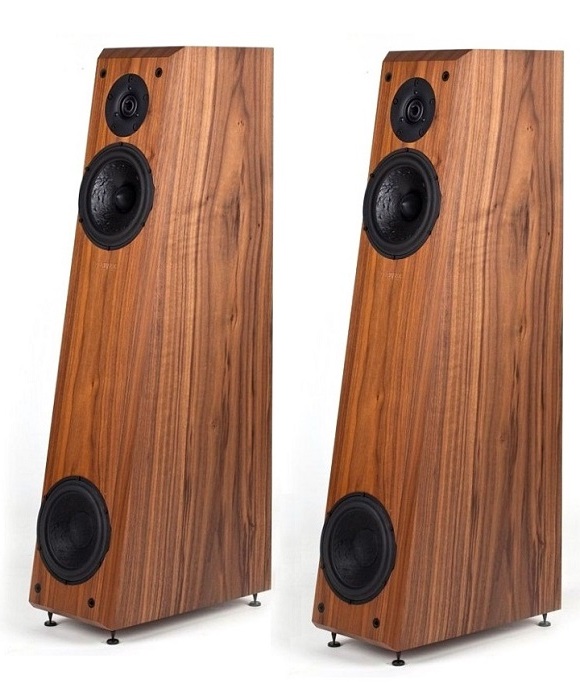 €3300
Xavian XN Carisma

Naturally warm, romantic and colorful... A sense of intimacy and realism can be achieved in many ways. Dynamics and transparency seem to be the most obvious, but Barletta can achieve this and by the intensity and variety of colors. I like this diameter. That's what makes it unique Carisma.
Carisma is a very good column. They have a soul and they know how to convey emotions stored somewhere in between waves. To really enjoy them, you have to satisfy two basic requirements - have a big room and amplifier speakers holding an iron hand. If they are assured, you will have more fun than some sets for more money.
Xavian XN Carisma

The XN Carismas were not in the least intimidated by the densely arranged music, nor the tonal range of the recording. They treated the recording with poise and dignity, digging deep into the emotion of the music, and also allowing the acoustic ambience and scale of the performance to come to the fore.
... Those with smaller rooms should look to Xavian's extensive stand-mounted speaker catalogue instead.
Beautifully presented, with bespoke drivers, these floorstanders find a satisfying mix of presence and finesse. Best in larger rooms, and upper treble can sound uncompromising.
Tweeter

: Scan-Speak Ring Radiator, 26 mm voice coil, copper shortcircuiting ring, double magnet, enlarged working chamber

Midbass

: 180 mm custom Scan-Speak, paper membrane with carbon fibers, 42 mm voice coil, Symmetrical Drive (SD-1) low-distortion motor and phase plug for improved phase linearity

Bass

: 180 mm Scan-Speak, paper membrane with carbon fibers, 42 mm voice coil, Symmetrical Drive (SD-1) low-distortion motor

Cabinet

: 22 mm MDF, handcrafted, bituminous damping, massive aluminium bass-reflex ports

Terminals

: XAVIAN binding posts
XN Carisma
Enjoy effortless dynamics and music with exceptional vitality
XN Carisma is a powerful 2.5-way floor standing speaker. In close collaboration with the prestigious Danish Scan-Speak company, Xavian has developed a unique custom made mid-woofer; 18W/Xavian, one of the best on the market. The carefull matching of another Scan-Speak mid-bass unit and a well known Ring Radiator creates a coherent, harmonic instrument for listening to music.
We are proud that the XN Carisma is completely developed and hand-made in the Czech Republic.
Specifications
Bass frequency unit
180 mm Scan-Speak, paper membrane with carbon fibers, 42 mm voice coil, Symmetrical Drive (SD-1) low-distortion motor
Mid-bass frequency unit
180 mm custom Scan-Speak, made to Xavian specification, paper membrane with carbon fibers, 42 mm voice coil, Symmetrical Drive (SD-1) low-distortion motor
High frequency unit
selected Scan-Speak Ring Radiator - 26 mm voice coil, copper shortcircuiting ring, double magnet, enlarged working chamber
System type
2.5 ways damped bass-reflex, massive rear aluminium ports
Cabinet
22 mm MDF, handcrafted, bituminous damping
Frequency response
( -3 dB on reference axis ): 38 - 30000 Hz
Connection
1 pair of singly mounted XAVIAN binding posts
Nominal impedance
4 ohms
Crossover frequency
250 / 2600 Hz
Sensitivity ( 2,83V / 1m )
89 dB
Recommended power amplification
30 - 200 W
Dimensions (HxWxD)
925 x 196 x 370 mm
Net weight (1 unit)
26 kg
Finishes

| | |
| --- | --- |
| cherry, maple, walnut, nero, bianco real wood | |
- Selected Scan-Speak driver
- 26 mm voice coil Ring Radiator
- Copper shortcircuiting ring
- Wave-guide center plug
- Enlarged non-reflective rear chamber
- Double magnet

- 180 mm custom Scan-Speak driver
- Paper membrane with carbon fibers
- Symmetrical Drive (SD-1) low-distortion motor
- Phase plug for improved phase linearity
- Die cast Alu Chassis

- 180 mm custom Scan-Speak driver
- Paper membrane with carbon fibers
- Symmetrical Drive (SD-1) low-distortion motor
- Die cast Alu Chassis

Completely hand-made in-house by Xavian in Prague - extremely precise and accurate filters.

Features:
- Audio Grade high quality components
- Air wounded Inductors on all sections besides bass section (250 Hz)
- Film Capacitors on all sections
- 250V and 400V Polypropylene Film Capacitors, stable capacity, low loss. low tolerance


Cabinet technology